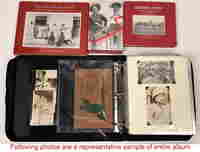 Photo Diary of Pancho Villa by W.H. Horne, with 3 Books
Related Militaria & War Memorabilia
More Items in Militaria & War Memorabilia
View More
4 days Left
US POST CIVIL WAR ERA OFFICERS SWORD
4 days Left
Antique Civil War Cannonball
4 days Left
Collectible Man Lot
Sep 13, 2022
World War II Marine helmet
Sep 13, 2022
World War I German gas mask
Aug 31, 2022
(1) Roll (40) World War II Silver Nickels
Sep 07, 2022
Interesting Civil War Era Plate
Sep 13, 2022
World War II German gas mask
Sep 13, 2022
World War I German canteen
Aug 31, 2022
(1) Roll (40) World War II Silver Nickels
Aug 31, 2022
(1) Roll (40) World War II Silver Nickels
Aug 31, 2022
(1) Roll (40) World War II Silver Nickels
Aug 25, 2022
CIVIL WAR SWORD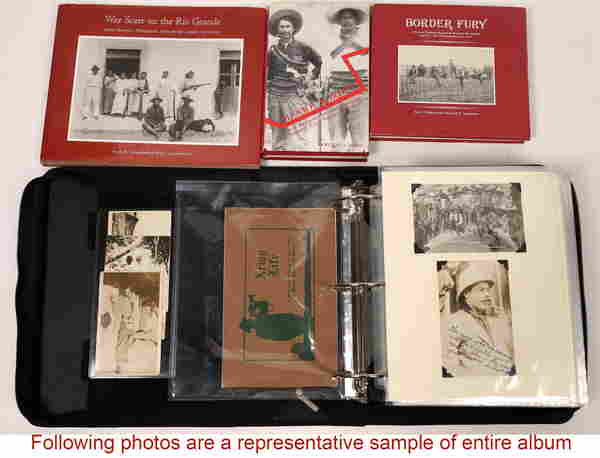 Item Details
Description
The primary feature of this lot is a collection of real photo postcards (RPCs), most of which are directly attributable to Walter H. Horne, who made a good living for himself making photographic postcards in the American Southwest during the time of the Mexican Revolution in the early 20th century. Some cards are addressed to Horne's family members in Hallowell, Maine, and the handwriting is consistent across many of the annotated cards, thus indicating that this is part of Horne's personal collection of his postcards or was contemporaneously assembled by his family.
Basing himself in El Paso, Texas, because of his health, Horne was not so much a journalist, but at the core, he was a business man who saw photography and the conflict south of the border to be opportunities to make money. He must have been a personable man, as he was able to photograph General Fransisco ("Pancho") Villa shortly after a successful battle in northern Mexico. He was also one of the first photographers to reach Columbus, New Mexico, within hours of the Villista raid into that community, and he followed Brigadier General John J. Pershing's 1916 Punitive Expedition as the United States Army attempted to capture Villa in northern Mexico. Here Horne records encampments, weapons, and new technology such as an observation balloon and Army biplanes.
Horne contact-printed tens of thousands of his photos direct from negatives onto ~3x5-inch postcards and sold them wholesale all over the country. His photo documentation of Pancho Villa's activity in the Mexican Revolution is gathered in this notebook of approximately 200 RPCs. It is amazing for revealing the gritty realism of the conflict and for the portrayal of the personal tragedies and triumphs experienced by so many.
Walter H. Horne died in El Paso at the age of 38 in 1921. His photographic legacy lives on through his images and has been incorporated in the telling and retelling of the events of the Mexican Revolution, and in particular of Pancho Villa. One such book is included in this lot: Border Fury, by Paul J. Vanderweed and Frank N. Samponaro, which includes a number of W.H. Horne images. Also included are Bloody Border, by Douglass V. Meed, and War Scare on the Rio Grande, by Frank N. Samponaro and Paul J. Vanderweed. The latter includes only images by Robert Runyan, a contemporary of W.H. Horne, but the authors specifically mention Horne's success in the photo postcard market of the period. Also included is a photo booklet Army Live - A Souvenir de Luxe of the Army in Mexico and on the Border. It is a photo journal of the 1916 Mexican Border Expedition. The photos have no attribution but are at least contemporary to the work of Walter Horne.
As assembled, this lot is an incredible collection of historic photographs from a tumultuous time in history along the U.S./Mexico border.
Date: 1910s
Country (if not USA): Mexico
State:
City:
Provenance:
Photo Diary of Pancho Villa by W.H. Horne, with 3 Books
Estimate
$25,000
-
$50,000
Get pre-approved to bid live.
Shipping, Payment & Auction Policies
$24.00

Flat-Rate Shipping to Contiguous US
Ships from Reno, NV, United States
Related Searches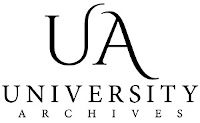 www.liveauctioneers.com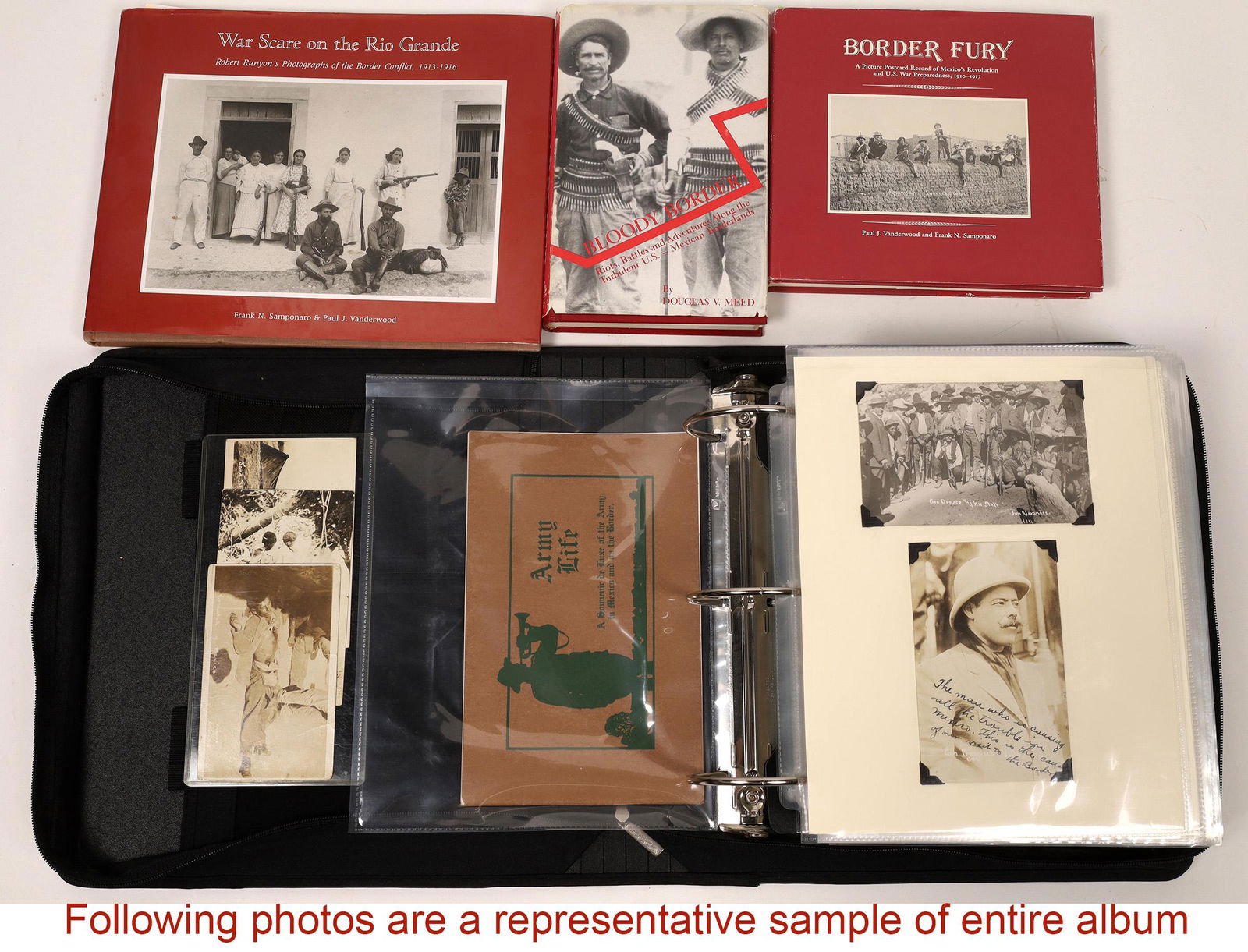 3456: Photo Diary of Pancho Villa by W.H. Horne, with 3 Books
Est.

$25,000

-

$50,000
•
Starting Price

$7,500
Sizzling Summer Auction Day 3
Aug 07, 2021 11:00 AM EDT
Buyer's Premium 25%
Lot 3456 Details
Description
The primary feature of this lot is a collection of real photo postcards (RPCs), most of which are directly attributable to Walter H. Horne, who made a good living for himself making photographic postcards in the American Southwest during the time of the Mexican Revolution in the early 20th century. Some cards are addressed to Horne's family members in Hallowell, Maine, and the handwriting is consistent across many of the annotated cards, thus indicating that this is part of Horne's personal collection of his postcards or was contemporaneously assembled by his family.
Basing himself in El Paso, Texas, because of his health, Horne was not so much a journalist, but at the core, he was a business man who saw photography and the conflict south of the border to be opportunities to make money. He must have been a personable man, as he was able to photograph General Fransisco ("Pancho") Villa shortly after a successful battle in northern Mexico. He was also one of the first photographers to reach Columbus, New Mexico, within hours of the Villista raid into that community, and he followed Brigadier General John J. Pershing's 1916 Punitive Expedition as the United States Army attempted to capture Villa in northern Mexico. Here Horne records encampments, weapons, and new technology such as an observation balloon and Army biplanes.
Horne contact-printed tens of thousands of his photos direct from negatives onto ~3x5-inch postcards and sold them wholesale all over the country. His photo documentation of Pancho Villa's activity in the Mexican Revolution is gathered in this notebook of approximately 200 RPCs. It is amazing for revealing the gritty realism of the conflict and for the portrayal of the personal tragedies and triumphs experienced by so many.
Walter H. Horne died in El Paso at the age of 38 in 1921. His photographic legacy lives on through his images and has been incorporated in the telling and retelling of the events of the Mexican Revolution, and in particular of Pancho Villa. One such book is included in this lot: Border Fury, by Paul J. Vanderweed and Frank N. Samponaro, which includes a number of W.H. Horne images. Also included are Bloody Border, by Douglass V. Meed, and War Scare on the Rio Grande, by Frank N. Samponaro and Paul J. Vanderweed. The latter includes only images by Robert Runyan, a contemporary of W.H. Horne, but the authors specifically mention Horne's success in the photo postcard market of the period. Also included is a photo booklet Army Live - A Souvenir de Luxe of the Army in Mexico and on the Border. It is a photo journal of the 1916 Mexican Border Expedition. The photos have no attribution but are at least contemporary to the work of Walter Horne.
As assembled, this lot is an incredible collection of historic photographs from a tumultuous time in history along the U.S./Mexico border.
Date: 1910s
Country (if not USA): Mexico
State:
City:
Provenance:
Contacts
Holabird Western Americana Collections
(775) 851-1859
LiveAuctioneers Support
info@liveauctioneers.com