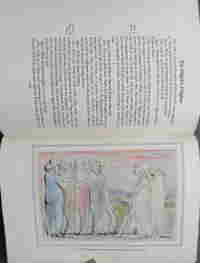 Bunyan, Pilgrims Progress, Blake illustrations, Limited 1stEd. 1941
Sold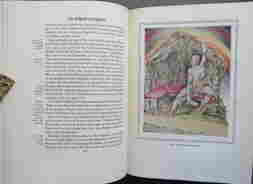 2022
Bunyan, Pilgrims Progress, Blake illustrations, Limited 1stEd. 1941
See Sold Price
Sold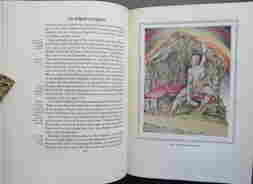 2022
Bunyan, Pilgrims Progress, Blake illustrations, 1stEd. 1941
See Sold Price
Sold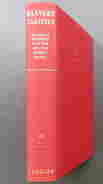 2022
Bunyan, Pilgrims Progress, Walton, Donne, Herbert, Harvard Classics 1937
See Sold Price
Sold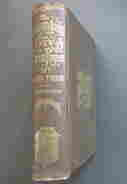 2022
Twain, Pilgrims Progress Innocents Abroad 1stEd. 1879 Print illustrated
See Sold Price
Sold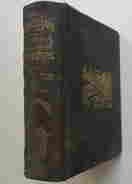 2022
Twain, Pilgrims Progress Innocents Abroad 1stEd. 1869
See Sold Price
Sold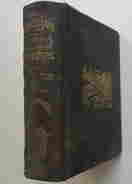 2022
Twain, Pilgrims Progress Innocents Abroad 1stEd. 1869
See Sold Price
Sold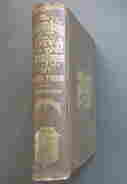 2022
Twain, Pilgrims Progress Innocents Abroad 1stEd. 1879
See Sold Price
Sold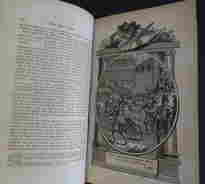 2019
John Bunyan, Holy War 1831 Edition, Engravings
See Sold Price
Sold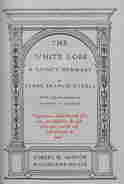 2020
James Branch Cabell, The White Robe, 1stEd 1928, ill.
See Sold Price
Related Books, Magazines & Papers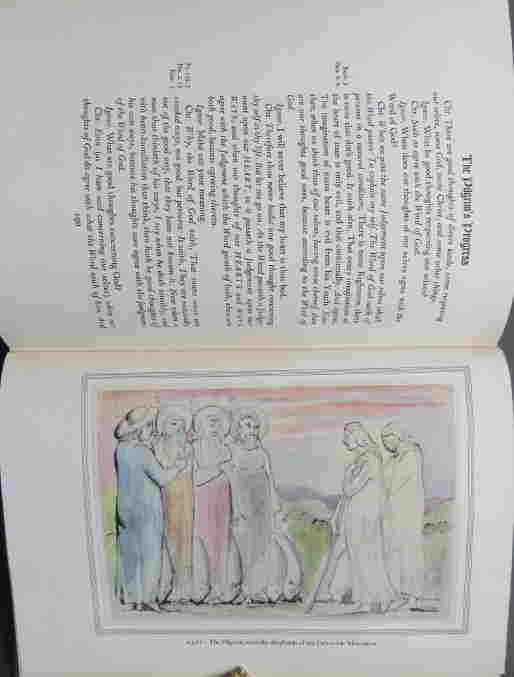 Item Details
Description
"The Pilgrim's Progress" by John Bunyan (1628-1688) with 29 watercolor paintings by William Blake, now printed for the first time." Edited by Geoffrey Keynes. Printed at the Spiral Press, New York for the members of The Limited Editions Club in 1941. Limited Edition of 1500 copies. Copy #593.

"The illustrations by William Blake are here reproduced for the first time, through the courtesy of the Marquess of Crewe who has loaned them to the directors of the Club for the purpose".

Blake's treatment of color and composition can be compared with Marc Chagall's; the expressive power resemble Dali's art. But those stunning 'modern' pictures were created by Blake in the 1820s, the era of Classic Revival and Romantic. William Blake was indeed a visionary."

"Blake's pictures to "Pilgrim's Progress' were for the first time exhibited and published 117 years after their creation. In 1824 completed pictures were shown in the public exhibition for the first time in Knoedler Galleries, New York in October-November, 1941 and at the same time they were published by the Limited Editions Club (1500 numbered copies).

Original black slipcase with title label on the backside [a little wear], hard boards, original publisher's cloth with label on spine [some fade]; 7.3/4" x 11"; 213 pages, 29 color plates (complete all Blake's plates) + Colophon, printed on heavy Whatman-quality paper with watermark "Pilgrim's Progress"; the color plates are past-down (on one side only); very good/ fine condition.

Bunyan's book, written in 1628, is a result of a vivid dream he had while in prison for preaching the Gospel. After 300 years, it still remains very popular. Pilgrim's Progress is considered to be Bunyan's best work. His book became a symbol in the Puritan fight for religious rights and a part of the driving force for equal rights for working class people. Tradition holds that John Bunyan wrote it in Bedford Gaol, while imprisoned for the crime of holding a religious service not in conformity with the Church of England. Bunyan spent twelve years in Bedford Gaol for that offense, which helps to explain why nonconformists liked to emigrate to America when they could.

"William Blake, born in 1757, nearly 70 years after Bunyan's death, can now be seen in his true proportions, and it is evident,...that he can stand beside Bunyan with undiminished stature...

Knowledge of Blake's tastes and interests would at once suggest that he must have been familiar for most of his life with Banyan's "Pilgrim's Progress". Its allegorical and visionary qualities would have attracted him from an early age... It has long been known that, in addition to this single print, Blake made a series of water-colour drawings illustrating The Pilgrim's Progress. ...Lord Crewe (who is in possession of these drawings) appreciated the great beauty of the drawings. . Few visitors ever asked to see them, so that their existence was largely forgotten. When Lord Crewe first told me of them, about the year 1928, and offered to show them to me, I was naturally eager to see them...I saw a magnificent series of designs... some of the loveliest water-colours that Blake had ever made... I soon decided that the design should be made known, if possible, to a greater number of Blake's admirers, and with Lord Crewe's help the arrangements were ultimately concluded by which the production of the present volume has been made possible...

The number of water-colour drawings contained in Lord Crewe's case is twenty-nine... The drawings are, as already mentioned, on Whatman paper with portions of the watermark J. WHATMAN / 1824 visible in many of them. All except one have wide margins, and are hinged on cardboard mounts so that they can be readily examined. A few have a word or two scribbled in the margin by Blake. None has any full inscription in his hand, nor is there any signature. [excerpts from the "Introduction" by Geoffrey Keynes, March, 1941]

Rates vary per country, we will adjust shipping costs with the invoice.

Note:
Country restrictions may apply - the lesser expansive Priority shipping may not be available to all countries.

US: Media (c.4-8 days) ------------- $20.50
Canada: Priority (c.2-6 weeks) ----- $58.50
World: Priority (c.2-8 weeks) ------ $86.50
Bunyan, Pilgrims Progress, Blake illustrations, Limited 1stEd. 1941
Get pre-approved to bid live.
Shipping, Payment & Auction Policies
$20.50

Flat-Rate Shipping to Contiguous US
Ships from Petersburg, VA, United States
Accepts seamless payments through LiveAuctioneers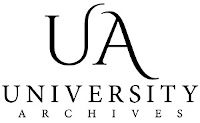 www.liveauctioneers.com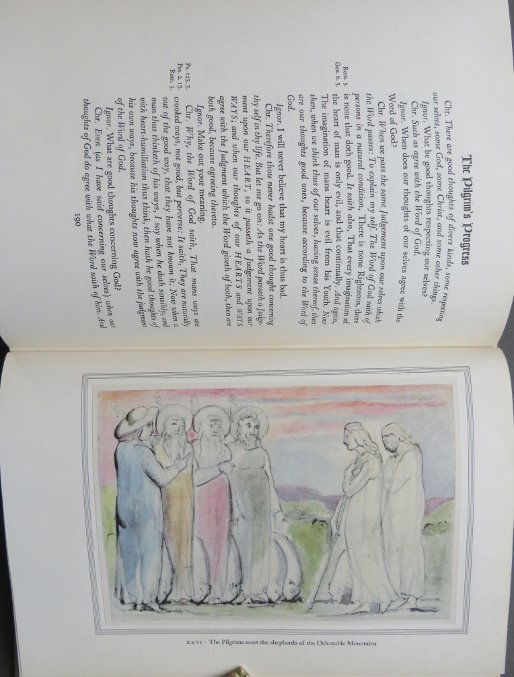 2061: Bunyan, Pilgrims Progress, Blake illustrations, Limited 1stEd. 1941
Est.

$1,000

-

$2,500
•
Starting Price

$490
Art, Books, Collectibles, Porcelain
Aug 26, 2022 2:00 PM EDT
Buyer's Premium 0%
Lot 2061 Details
Description
"The Pilgrim's Progress" by John Bunyan (1628-1688) with 29 watercolor paintings by William Blake, now printed for the first time." Edited by Geoffrey Keynes. Printed at the Spiral Press, New York for the members of The Limited Editions Club in 1941. Limited Edition of 1500 copies. Copy #593.

"The illustrations by William Blake are here reproduced for the first time, through the courtesy of the Marquess of Crewe who has loaned them to the directors of the Club for the purpose".

Blake's treatment of color and composition can be compared with Marc Chagall's; the expressive power resemble Dali's art. But those stunning 'modern' pictures were created by Blake in the 1820s, the era of Classic Revival and Romantic. William Blake was indeed a visionary."

"Blake's pictures to "Pilgrim's Progress' were for the first time exhibited and published 117 years after their creation. In 1824 completed pictures were shown in the public exhibition for the first time in Knoedler Galleries, New York in October-November, 1941 and at the same time they were published by the Limited Editions Club (1500 numbered copies).

Original black slipcase with title label on the backside [a little wear], hard boards, original publisher's cloth with label on spine [some fade]; 7.3/4" x 11"; 213 pages, 29 color plates (complete all Blake's plates) + Colophon, printed on heavy Whatman-quality paper with watermark "Pilgrim's Progress"; the color plates are past-down (on one side only); very good/ fine condition.

Bunyan's book, written in 1628, is a result of a vivid dream he had while in prison for preaching the Gospel. After 300 years, it still remains very popular. Pilgrim's Progress is considered to be Bunyan's best work. His book became a symbol in the Puritan fight for religious rights and a part of the driving force for equal rights for working class people. Tradition holds that John Bunyan wrote it in Bedford Gaol, while imprisoned for the crime of holding a religious service not in conformity with the Church of England. Bunyan spent twelve years in Bedford Gaol for that offense, which helps to explain why nonconformists liked to emigrate to America when they could.

"William Blake, born in 1757, nearly 70 years after Bunyan's death, can now be seen in his true proportions, and it is evident,...that he can stand beside Bunyan with undiminished stature...

Knowledge of Blake's tastes and interests would at once suggest that he must have been familiar for most of his life with Banyan's "Pilgrim's Progress". Its allegorical and visionary qualities would have attracted him from an early age... It has long been known that, in addition to this single print, Blake made a series of water-colour drawings illustrating The Pilgrim's Progress. ...Lord Crewe (who is in possession of these drawings) appreciated the great beauty of the drawings. . Few visitors ever asked to see them, so that their existence was largely forgotten. When Lord Crewe first told me of them, about the year 1928, and offered to show them to me, I was naturally eager to see them...I saw a magnificent series of designs... some of the loveliest water-colours that Blake had ever made... I soon decided that the design should be made known, if possible, to a greater number of Blake's admirers, and with Lord Crewe's help the arrangements were ultimately concluded by which the production of the present volume has been made possible...

The number of water-colour drawings contained in Lord Crewe's case is twenty-nine... The drawings are, as already mentioned, on Whatman paper with portions of the watermark J. WHATMAN / 1824 visible in many of them. All except one have wide margins, and are hinged on cardboard mounts so that they can be readily examined. A few have a word or two scribbled in the margin by Blake. None has any full inscription in his hand, nor is there any signature. [excerpts from the "Introduction" by Geoffrey Keynes, March, 1941]

Rates vary per country, we will adjust shipping costs with the invoice.

Note:
Country restrictions may apply - the lesser expansive Priority shipping may not be available to all countries.

US: Media (c.4-8 days) ------------- $20.50
Canada: Priority (c.2-6 weeks) ----- $58.50
World: Priority (c.2-8 weeks) ------ $86.50
Contacts
Frost & Nicklaus
(804) 733-6734
LiveAuctioneers Support
info@liveauctioneers.com