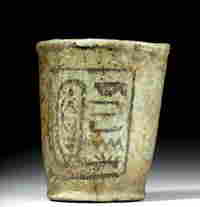 Egyptian Faience Cup King Tut Cartouche - TL Tested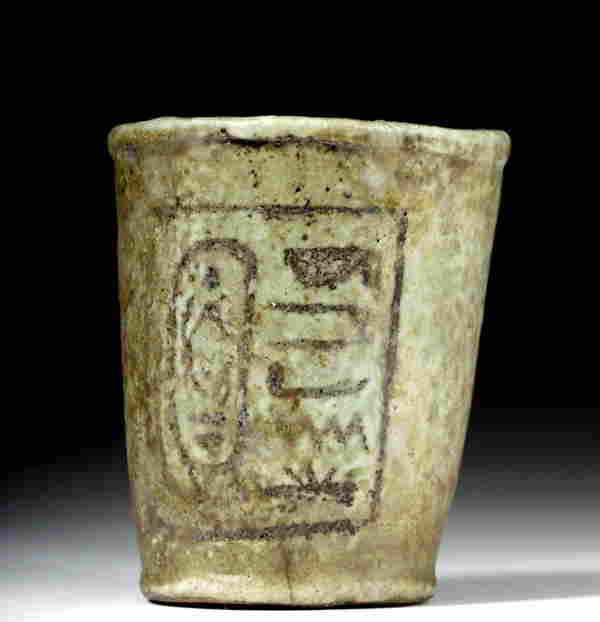 Item Details
Description
Egypt, New Kingdom, 18th Dynasty, ca. 1333 to 1323 BCE. A green glazed faience cup, cylindrical and tapering in form, with a gently flared rim and a flat foot, the exterior wall of one side adorned with a panel that contains a black-painted King Tutankhamun (also spelled Tutankhamen and Tutankhamon, byname King Tut) cartouche (an oval ring that contains the pharoah's name) beside an untranslated though legible hieroglyph inscription. Similar cups are inscribed with dedications to Sokar, the Egyptian god of the underworld, and we believe these cups were made for funerary purposes, perhaps to hold offerings. Size: 1.7" W x 2.15" H (4.3 cm x 5.5 cm)

Faience was known as "tjehnet" to the ancient Egyptians, meaning brilliant or dazzling. It was made by grinding quartz or sand crystals together with various elements, including copper oxide, which gave it its distinctive blue-green tint. The Egyptians believed that blue faience reflected the color of the river Nile both on earth and in the afterlife, and funerary objects are often made from this material.

King Tut is perhaps the most famous figure of the Post-Amarna period. Believed to be Akhenaton's son born to a minor wife, the boy king ruled for only a decade; taking the throne at the age of 8 or 9, his reign ending with his unexpected death at the age of 18. Although Tut was a relatively minor contributor to Egyptian history with few notable accomplishments, his name is legendary because of the discovery of his tomb in 1922 by British archaeologist Howard Carter. Ironically, it is possible that Tut's lackluster reign resulted in the near perfect preservation of his tomb, as the location of this tomb was somewhat isolated from those of the more accomplished pharoahs whose tombs were looted. Tutankhamen's tomb was a veritable treasure trove of lavish sculpture, jewelry, and furniture; these largely intact contents included Tut's royal mummy - its innermost coffin made of shimmering gold with an inlay of enamel and semiprecious stones, made to portray the adolescent Tut as Osiris; the death mask of Tut from the innermost coffin presenting the youthful king with a traditional false beard and uraeus cobra headdress; and a magnificent painted chest depicting Tut emerging victorious over foreign enemies. Interestingly, the boy king was probably too young to actually fight in these battles; however, his royal position required that visual artists depict him as a mighty conqueror. Hence, the artist of this chest created a fabulous contrast between registers of orderly Egyptian chariots and topsy-turvy piles of foreign soldiers tumbling before the king's presence. These artifacts and others have been featured in both permanent and traveling exhibitions, perhaps the most famous being "The Treasures of Tutankhamun" tour that ran from 1972 to 1981. More recent exhibitions have included "Tutankhamun Treasures" in 1961 and 1967, "Tutankhamen: The Golden Hereafter" beginning in 2004, "Tutankhamun and the Golden Age of the Pharaohs" beginning in 2005, and "Tutankhamun: The Golden King and the Great Pharaohs" in 2008.

Compare with a parallel translated example in Christies, December 11, 2009, Lot 12, which sold for $8125: http://www.christies.com/lotfinder/Lot/an-egyptian-faience-cup-for-sety-i-5274035-details.aspx

This piece has been tested using thermoluminescence (TL) and has been found to be ancient and of the period stated. A full report will accompany purchase.

Provenance: ex-Ancient Art International, Florida, USA

All items legal to buy/sell under U.S. Statute covering cultural patrimony Code 2600, CHAPTER 14, and are guaranteed to be as described or your money back.

A Certificate of Authenticity will accompany all winning bids.

We ship worldwide to most countries and handle all shipping in-house for your convenience.

#121177
Condition
Intact. Cartouche and hieroglyph inscription are legible. Small TL drill hole on base. Earthen and mineral deposits as well as nice craquelure.
Egyptian Faience Cup King Tut Cartouche - TL Tested
Estimate
$10,000
-
$15,000
Get pre-approved to bid live.
Shipping, Payment & Auction Policies
Ships from Louisville, CO, United States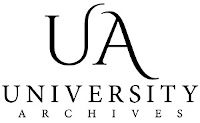 www.liveauctioneers.com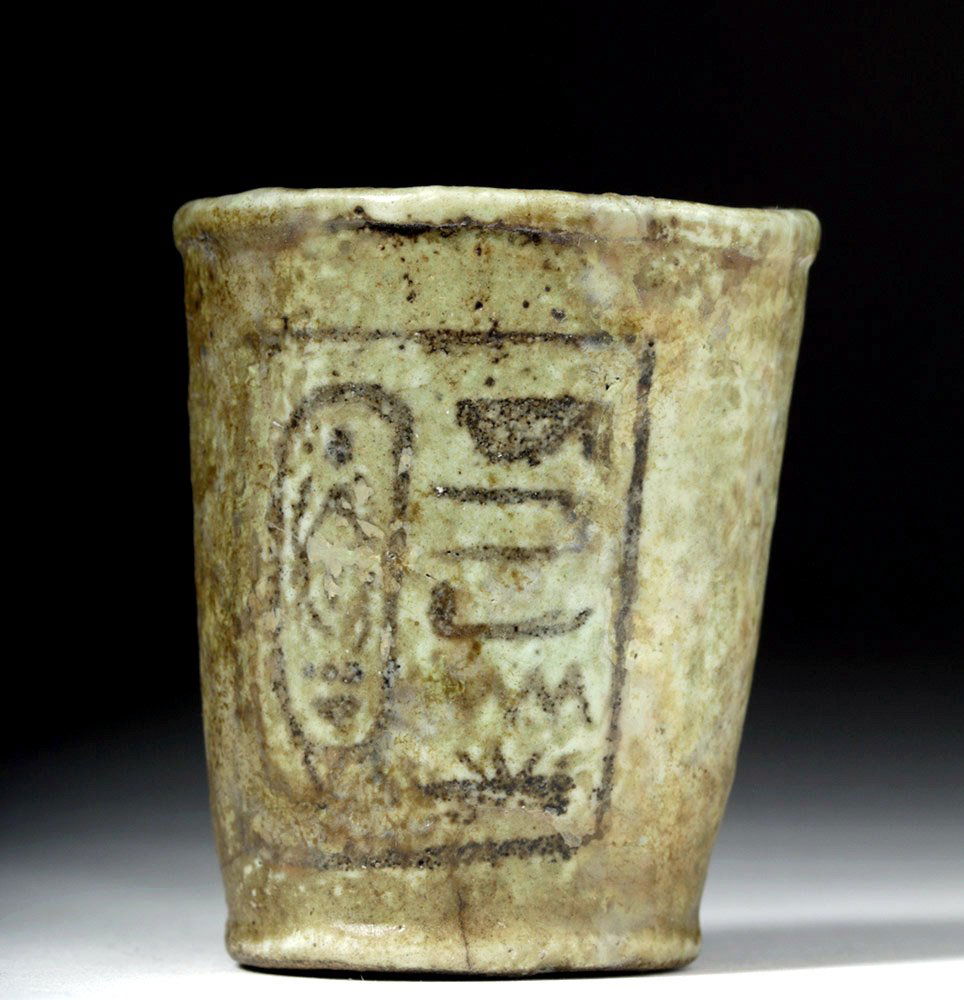 0001F: Egyptian Faience Cup King Tut Cartouche - TL Tested
Est.

$10,000

-

$15,000
•
Starting Price

$5,000
Holiday Sale - Ancient | Asian | Ethnographic
Dec 05, 2017 10:00 AM EST
Buyer's Premium 24.5%
Description
Egypt, New Kingdom, 18th Dynasty, ca. 1333 to 1323 BCE. A green glazed faience cup, cylindrical and tapering in form, with a gently flared rim and a flat foot, the exterior wall of one side adorned with a panel that contains a black-painted King Tutankhamun (also spelled Tutankhamen and Tutankhamon, byname King Tut) cartouche (an oval ring that contains the pharoah's name) beside an untranslated though legible hieroglyph inscription. Similar cups are inscribed with dedications to Sokar, the Egyptian god of the underworld, and we believe these cups were made for funerary purposes, perhaps to hold offerings. Size: 1.7" W x 2.15" H (4.3 cm x 5.5 cm)

Faience was known as "tjehnet" to the ancient Egyptians, meaning brilliant or dazzling. It was made by grinding quartz or sand crystals together with various elements, including copper oxide, which gave it its distinctive blue-green tint. The Egyptians believed that blue faience reflected the color of the river Nile both on earth and in the afterlife, and funerary objects are often made from this material.

King Tut is perhaps the most famous figure of the Post-Amarna period. Believed to be Akhenaton's son born to a minor wife, the boy king ruled for only a decade; taking the throne at the age of 8 or 9, his reign ending with his unexpected death at the age of 18. Although Tut was a relatively minor contributor to Egyptian history with few notable accomplishments, his name is legendary because of the discovery of his tomb in 1922 by British archaeologist Howard Carter. Ironically, it is possible that Tut's lackluster reign resulted in the near perfect preservation of his tomb, as the location of this tomb was somewhat isolated from those of the more accomplished pharoahs whose tombs were looted. Tutankhamen's tomb was a veritable treasure trove of lavish sculpture, jewelry, and furniture; these largely intact contents included Tut's royal mummy - its innermost coffin made of shimmering gold with an inlay of enamel and semiprecious stones, made to portray the adolescent Tut as Osiris; the death mask of Tut from the innermost coffin presenting the youthful king with a traditional false beard and uraeus cobra headdress; and a magnificent painted chest depicting Tut emerging victorious over foreign enemies. Interestingly, the boy king was probably too young to actually fight in these battles; however, his royal position required that visual artists depict him as a mighty conqueror. Hence, the artist of this chest created a fabulous contrast between registers of orderly Egyptian chariots and topsy-turvy piles of foreign soldiers tumbling before the king's presence. These artifacts and others have been featured in both permanent and traveling exhibitions, perhaps the most famous being "The Treasures of Tutankhamun" tour that ran from 1972 to 1981. More recent exhibitions have included "Tutankhamun Treasures" in 1961 and 1967, "Tutankhamen: The Golden Hereafter" beginning in 2004, "Tutankhamun and the Golden Age of the Pharaohs" beginning in 2005, and "Tutankhamun: The Golden King and the Great Pharaohs" in 2008.

Compare with a parallel translated example in Christies, December 11, 2009, Lot 12, which sold for $8125: http://www.christies.com/lotfinder/Lot/an-egyptian-faience-cup-for-sety-i-5274035-details.aspx

This piece has been tested using thermoluminescence (TL) and has been found to be ancient and of the period stated. A full report will accompany purchase.

Provenance: ex-Ancient Art International, Florida, USA

All items legal to buy/sell under U.S. Statute covering cultural patrimony Code 2600, CHAPTER 14, and are guaranteed to be as described or your money back.

A Certificate of Authenticity will accompany all winning bids.

We ship worldwide to most countries and handle all shipping in-house for your convenience.

#121177
Condition
Intact. Cartouche and hieroglyph inscription are legible. Small TL drill hole on base. Earthen and mineral deposits as well as nice craquelure.
Artemis Gallery
720.890.7700
686 S. Taylor Avenue Suite 106
LiveAuctioneers Support
info@liveauctioneers.com