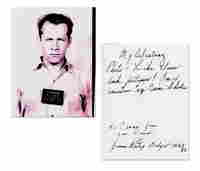 Gangster Whitey Bulger's Photo from Alcatraz Prison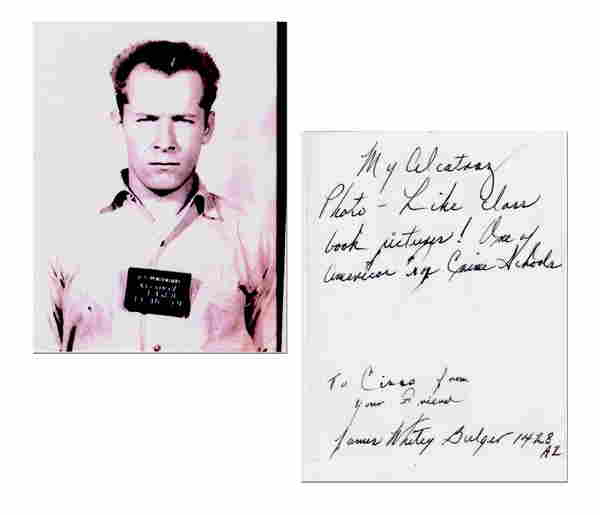 Item Details
Description
Bulger James "Whitey"
"One of Americas Top Crime Schools"
Bulger served approximately one third of his first term in prison at the federal penitentiary on Alcatraz Island in San Francisco Bay. There, his prisoner number was 1428.
JAMES "WHITEY" BULGER, Autograph Photograph Signed, to "Cisco," ca. 2016-2018. Incarceration photograph from Alcatraz Federal Penitentiary, 2.75" x 3.5". Light exposure on reproduction; note on verso very legible; very good.
Complete Transcript
My Alcatraz Photo – Like class book pictures! One of Americas Top Crime Schools
To Cisco from your Friend / James Whitey Bulger 1428 AZ
James "Whitey" Bulger (1929-2018) was born in Massachusetts into an Irish-American family and grew up in poverty. Unlike his siblings, Bulger was drawn to street life and early in his criminal career, the police nicknamed him "Whitey" because of his blond hair. He grew up in South Boston and was a member of a street gang. From 1948 to 1952, he served in the U.S. Air Force. In 1956, he began his first term in federal prison in Atlanta for armed robbery and truck hijacking. While there, he participated in the MK-ULTRA program, which used inmates to research mind-control drugs in exchange for reduced sentences. He was given LSD and other drugs. After serving nine years in federal prisons in Georgia, Kansas, California, and Pennsylvania, Bulger received a parole in 1965. He returned to Boston and organized crime. From 1972, he was a leader of the Winter Hill Gang in South Boston that specialized in bookmaking and loan sharking but used violence and murder to maintain discipline. In the early 1970s, Bulger became an informant for the Federal Bureau of Investigation and used that role to eliminate his rivals in organized crime. During the 1980s, Bulger forced drug dealers to pay him protection money to operate in Boston. Made aware of an impending indictment for racketeering, Bulger fled Boston in January 1995 with his girlfriend Catherine Grieg (b. 1951). Over the next sixteen years, Bulger was in hiding, spending twelve of those years on the FBI's Ten Most Wanted Fugitives list. He was arrested in Santa Monica, California, in June 2011 and tried in Boston. Convicted of the murder of eleven people, Bulger was sentenced to two terms of life imprisonment, plus five years, and a fine of more than $44 million. In 2104, he was sent to a federal penitentiary in Sumterville, Florida. In October 2018, he was transferred to prison facilities in Oklahoma and then West Virginia. The morning after his arrival at prison in West Virginia, he was found beaten to death by other inmates.
This item comes with a Certificate from John Reznikoff, a premier authenticator for both major 3rd party authentication services, PSA and JSA (James Spence Authentications), as well as numerous auction houses.
WE PROVIDE IN-HOUSE SHIPPING WORLDWIDE
Gangster Whitey Bulger's Photo from Alcatraz Prison
Shipping, Payment & Auction Policies
Ships from Westport, CT, United States
Auction Curated By
John Reznikoff
President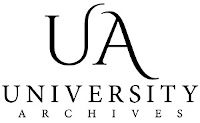 www.liveauctioneers.com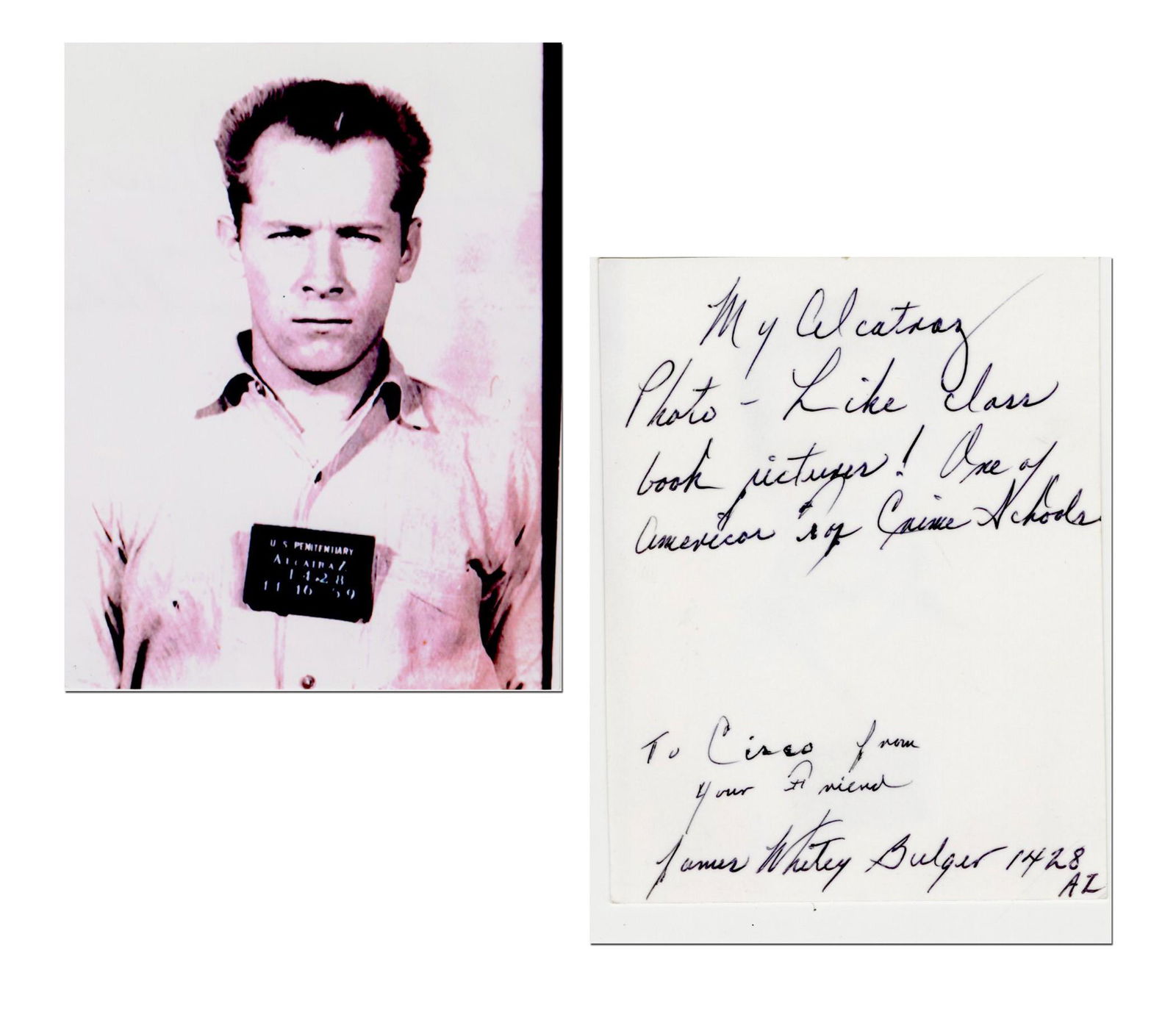 0025: Gangster Whitey Bulger's Photo from Alcatraz Prison
Est.

$500

-

$600
•
Starting Price

$160
Autographs, Books, Relics, Kerouac, Hemingway
Feb 26, 2020 10:30 AM EST
Buyer's Premium 25%
Lot 0025 Details
Description
Bulger James "Whitey"

"One of Americas Top Crime Schools"

 

Bulger served approximately one third of his first term in prison at the federal penitentiary on Alcatraz Island in San Francisco Bay. There, his prisoner number was 1428.

 

JAMES "WHITEY" BULGER, Autograph Photograph Signed, to "Cisco," ca. 2016-2018. Incarceration photograph from Alcatraz Federal Penitentiary, 2.75" x 3.5". Light exposure on reproduction; note on verso very legible; very good.

Complete Transcript
My Alcatraz Photo – Like class book pictures! One of Americas Top Crime Schools
To Cisco from your Friend / James Whitey Bulger 1428 AZ

 

James "Whitey" Bulger (1929-2018) was born in Massachusetts into an Irish-American family and grew up in poverty. Unlike his siblings, Bulger was drawn to street life and early in his criminal career, the police nicknamed him "Whitey" because of his blond hair. He grew up in South Boston and was a member of a street gang. From 1948 to 1952, he served in the U.S. Air Force. In 1956, he began his first term in federal prison in Atlanta for armed robbery and truck hijacking. While there, he participated in the MK-ULTRA program, which used inmates to research mind-control drugs in exchange for reduced sentences. He was given LSD and other drugs. After serving nine years in federal prisons in Georgia, Kansas, California, and Pennsylvania, Bulger received a parole in 1965. He returned to Boston and organized crime. From 1972, he was a leader of the Winter Hill Gang in South Boston that specialized in bookmaking and loan sharking but used violence and murder to maintain discipline. In the early 1970s, Bulger became an informant for the Federal Bureau of Investigation and used that role to eliminate his rivals in organized crime. During the 1980s, Bulger forced drug dealers to pay him protection money to operate in Boston. Made aware of an impending indictment for racketeering, Bulger fled Boston in January 1995 with his girlfriend Catherine Grieg (b. 1951). Over the next sixteen years, Bulger was in hiding, spending twelve of those years on the FBI's Ten Most Wanted Fugitives list. He was arrested in Santa Monica, California, in June 2011 and tried in Boston. Convicted of the murder of eleven people, Bulger was sentenced to two terms of life imprisonment, plus five years, and a fine of more than $44 million. In 2104, he was sent to a federal penitentiary in Sumterville, Florida. In October 2018, he was transferred to prison facilities in Oklahoma and then West Virginia. The morning after his arrival at prison in West Virginia, he was found beaten to death by other inmates.

 

This item comes with a Certificate from John Reznikoff, a premier authenticator for both major 3rd party authentication services, PSA and JSA (James Spence Authentications), as well as numerous auction houses.

 

WE PROVIDE IN-HOUSE SHIPPING WORLDWIDE




Contacts
University Archives
(203) 454-0111
88 Danbury Road, Suite 2A
LiveAuctioneers Support
info@liveauctioneers.com