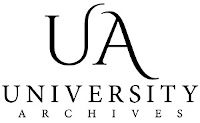 Weekly Auctions of Exceptional Items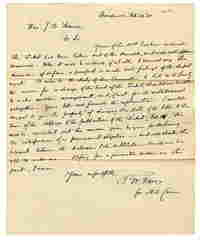 Dorr Rebellion Thomas Dorr Assures Former Governor that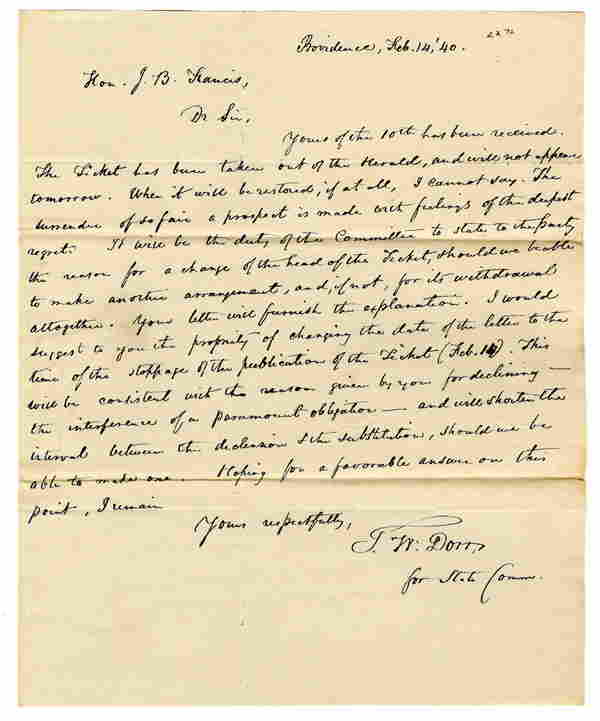 Lot 0062 Details
Description
Dorr Thomas
Dorr Rebellion Thomas Dorr Assures Former Governor that He Will Be Removed from Democratic Ticket, Very Rare
On January 16, 1840, the Rhode Island Democratic Convention nominated former governor John Brown Francis as its candidate for governor. Two days later, he informed the state committee that he would not be a candidate. In a series of letters, state committee secretary Thomas W. Dorr attempted to persuade Francis to reconsider or at least give the committee time to find another candidate. On February 10, 1840, Francis insisted that his name be taken off the Democratic ticket published in the newspapers and that his letter declining the nomination for governor be published. In this skillful letter, Dorr reported that the Democratic committee had failed to recruit another candidate for governor, but also suggested that Francis make some changes to his letter before it was published. Two years later, Dorr was leading the Dorr Rebellion against Rhode Island's restrictive franchise requirements, actions which landed him in prison.
THOMAS W. DORR, Autograph Letter Signed, to John Brown Francis, February 14, 1840, Providence, Rhode Island. "for State Comm." beneath signature. 1 p., 8" x 10". Expected folds; tear from opening seal that does not affect text.
Excerpt
"The Ticket has been taken out of the Herald, and will not appear tomorrow. When it will be restored, if at all, I cannot say. The surrender of so fair a prospect is made with feelings of the deepest regret. It will be the duty of the Committee to state to the party the reason for a change of the head of the Ticket, should we be able to make another arrangement, and, if not, for its withdrawal altogether. Your letter will furnish the explanation. I would suggest to you the propriety of changing the date of the letter to the time of the stoppage of the publication of the Ticket (Feb. 14). This will be consistent with the reason given by you for declining—the interference of a paramount obligation—and will shorten the interval between the declension & the substitution, should we be able to make one."
Historical Background
State representative Thomas Wilson Dorr was a committed devotee of President Andrew Jackson and his Democratic Party, though Dorr was also an abolitionist. He had served in the Rhode Island House of Representatives since 1834 and was active in Democratic politics in the state. John Brown Francis had served as the Democratic governor of the state for five annual terms from 1833 to 1838. Whig candidate William Sprague III replaced Francis as governor in 1838. In 1839, the legislature could not agree on which of the three top candidates should become governor, so state senator Samuel Ward King of the Rhode Island Party became governor.
In 1840, Governor King ran for reelection, and the Democratic Party hoped to draft former governor Francis to challenge him. When that effort failed, the Democrats proposed Thomas F. Carpenter for governor and Nathaniel Bullock for lieutenant governor. King won the April election with 59 percent of the popular vote to Carpenter's 41 percent.
To the chagrin of conservative Democrats like former governor John Brown Francis, Dorr emerged as the head of the state Democratic committee by September 1840. After Whig William Henry Harrison won more than 61 percent of the vote in Rhode Island in November 1840, Democrats were more willing to join a Suffrage Party devoted to expanding the electorate in the state.
Rhode Island was the only state that did not adopt a new written constitution after the American Revolutionary War. Its colonial charter required ownership of a "moderate landed estate" as a requirement for voting. By 1840, unlike almost all other states, Rhode Island had not expanded the franchise to all free white men. The colonial requirement meant that 60 percent of the adult white male population could not vote, and the growing urban population was underrepresented.
Dorr helped form a "People's Party" in Rhode Island, which held a convention late in 1841 to adopt a new constitution. The state government refused to recognize the new constitution but called its own constitutional convention. Voters narrowly rejected the resulting constitution. To meet the challenge posed by Dorr's People's Party, Whigs and conservative Democrats like former governors John B. Francis and James Fenner closed ranks to form a Law and Order Party.
The "Dorrites" used the People's Party constitution to elect a state government with Dorr as governor, while a separate poll re-elected Governor King. By May 1842, Rhode Island had two governments claiming legitimacy. Governor King appealed to Washington for federal assistance, and Governor Dorr traveled to Washington to meet with President John Tyler but received no encouragement. Governor King proclaimed martial law and offered a reward for Dorr, who fled the state, and the "rebellion" disintegrated.
A new constitution, ratified in November 1842, opened the franchise to all adult males, even enfranchising African-American men.  When Dorr returned hopefully to Providence in October 1843, authorities arrested him, convicted him of treason, and sentenced him in June 1844 to solitary confinement at hard labor for life. In the face of public outrage, the General Assembly passed a general amnesty act, and Dorr was released after serving only one year.
Just before Dorr went to prison, John B. Francis went to the U.S. Senate for fourteen months to fill out the term vacated when William Sprague III resigned because of the death of his brother and business partner. The following year, Francis returned to the Rhode Island Senate, where he remained for another decade.
Thomas Wilson Dorr (1805-1854) was born in Providence, Rhode Island, and graduated from Harvard College in 1823. He studied law in New York City and was admitted to the bar in 1827, when he returned to Providence to practice. Elected to the Rhode Island General Assembly in 1834, Dorr became concerned about the disproportionate representation of rural areas and the disfranchisement of 60 percent of the state's adult males. After attempts to expand the franchise failed, reformers elected Dorr in 1842 as governor of a shadow government of Rhode Island. After failing to get support from the federal government and an abortive military maneuver, Dorr remained in exile for more than a year. When he returned to Rhode Island in October 1843, he was arrested, convicted of treason, and imprisoned for life. A general amnesty led to his release after one year, and he regained his civil rights in 1851.
John Brown Francis (1791-1864) was born in Philadelphia and graduated from Brown University in 1808. He was a merchant, attended the Litchfield Law School, and gained admission to the bar, but never practiced. He was a member of the Rhode Island House of Representatives from 1821 to 1829, and the Rhode Island Senate in 1831 and 1842. From 1833 to 1838, Francis was the governor of Rhode Island. From 1841 to 1854, Francis served as chancellor of Brown University, and the Law and Order Party coalition of Whigs and conservative Democrats elected him to the U.S. Senate in January 1844 to fill a vacancy caused by the resignation of William Sprague III. Francis served in the U.S. Senate from January 1844 to March 1845, but was not a candidate for reelection. He returned to the Rhode Island Senate from 1845 to 1856, then retired from public life.
This item comes with a Certificate from John Reznikoff, a premier authenticator for both major 3rd party authentication services, PSA and JSA (James Spence Authentications), as well as numerous auction houses.
WE PROVIDE IN-HOUSE SHIPPING WORLDWIDE
Dorr Rebellion Thomas Dorr Assures Former Governor that
Shipping, Payment & Auction Policies
Ships from
Westport , CT, United States
Auction Curated By
John Reznikoff
President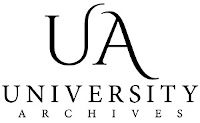 www.liveauctioneers.com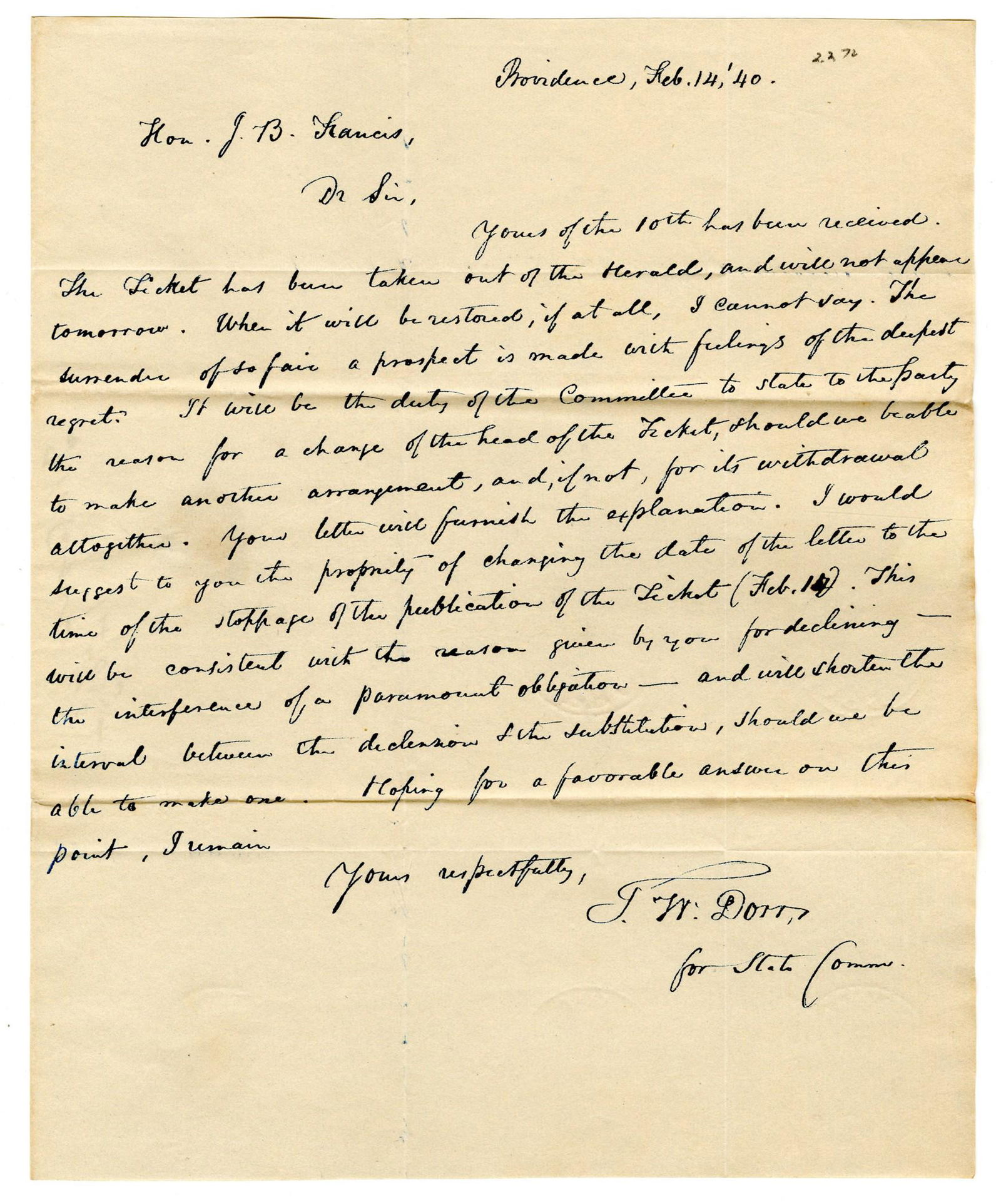 0062: Dorr Rebellion Thomas Dorr Assures Former Governor that
Est.

$600

-

$700
•
Starting Price

$200
Autographs, Books, Relics, Kerouac, Hemingway
Wed, Feb 26, 2020 10:30 AM EST
Buyer's Premium 25%
Lot 0062 Details
Description
Dorr Thomas

Dorr Rebellion Thomas Dorr Assures Former Governor that He Will Be Removed from Democratic Ticket, Very Rare

 

On January 16, 1840, the Rhode Island Democratic Convention nominated former governor John Brown Francis as its candidate for governor. Two days later, he informed the state committee that he would not be a candidate. In a series of letters, state committee secretary Thomas W. Dorr attempted to persuade Francis to reconsider or at least give the committee time to find another candidate. On February 10, 1840, Francis insisted that his name be taken off the Democratic ticket published in the newspapers and that his letter declining the nomination for governor be published. In this skillful letter, Dorr reported that the Democratic committee had failed to recruit another candidate for governor, but also suggested that Francis make some changes to his letter before it was published. Two years later, Dorr was leading the Dorr Rebellion against Rhode Island's restrictive franchise requirements, actions which landed him in prison.

 

THOMAS W. DORR, Autograph Letter Signed, to John Brown Francis, February 14, 1840, Providence, Rhode Island. "for State Comm." beneath signature. 1 p., 8" x 10". Expected folds; tear from opening seal that does not affect text.

 

Excerpt

 

"The Ticket has been taken out of the Herald, and will not appear tomorrow. When it will be restored, if at all, I cannot say. The surrender of so fair a prospect is made with feelings of the deepest regret. It will be the duty of the Committee to state to the party the reason for a change of the head of the Ticket, should we be able to make another arrangement, and, if not, for its withdrawal altogether. Your letter will furnish the explanation. I would suggest to you the propriety of changing the date of the letter to the time of the stoppage of the publication of the Ticket (Feb. 14). This will be consistent with the reason given by you for declining—the interference of a paramount obligation—and will shorten the interval between the declension & the substitution, should we be able to make one."

 

Historical Background

 

State representative Thomas Wilson Dorr was a committed devotee of President Andrew Jackson and his Democratic Party, though Dorr was also an abolitionist. He had served in the Rhode Island House of Representatives since 1834 and was active in Democratic politics in the state. John Brown Francis had served as the Democratic governor of the state for five annual terms from 1833 to 1838. Whig candidate William Sprague III replaced Francis as governor in 1838. In 1839, the legislature could not agree on which of the three top candidates should become governor, so state senator Samuel Ward King of the Rhode Island Party became governor.

 

In 1840, Governor King ran for reelection, and the Democratic Party hoped to draft former governor Francis to challenge him. When that effort failed, the Democrats proposed Thomas F. Carpenter for governor and Nathaniel Bullock for lieutenant governor. King won the April election with 59 percent of the popular vote to Carpenter's 41 percent.

 

To the chagrin of conservative Democrats like former governor John Brown Francis, Dorr emerged as the head of the state Democratic committee by September 1840. After Whig William Henry Harrison won more than 61 percent of the vote in Rhode Island in November 1840, Democrats were more willing to join a Suffrage Party devoted to expanding the electorate in the state.

 

Rhode Island was the only state that did not adopt a new written constitution after the American Revolutionary War. Its colonial charter required ownership of a "moderate landed estate" as a requirement for voting. By 1840, unlike almost all other states, Rhode Island had not expanded the franchise to all free white men. The colonial requirement meant that 60 percent of the adult white male population could not vote, and the growing urban population was underrepresented.

 

Dorr helped form a "People's Party" in Rhode Island, which held a convention late in 1841 to adopt a new constitution. The state government refused to recognize the new constitution but called its own constitutional convention. Voters narrowly rejected the resulting constitution. To meet the challenge posed by Dorr's People's Party, Whigs and conservative Democrats like former governors John B. Francis and James Fenner closed ranks to form a Law and Order Party.

 

The "Dorrites" used the People's Party constitution to elect a state government with Dorr as governor, while a separate poll re-elected Governor King. By May 1842, Rhode Island had two governments claiming legitimacy. Governor King appealed to Washington for federal assistance, and Governor Dorr traveled to Washington to meet with President John Tyler but received no encouragement. Governor King proclaimed martial law and offered a reward for Dorr, who fled the state, and the "rebellion" disintegrated.

 

A new constitution, ratified in November 1842, opened the franchise to all adult males, even enfranchising African-American men.  When Dorr returned hopefully to Providence in October 1843, authorities arrested him, convicted him of treason, and sentenced him in June 1844 to solitary confinement at hard labor for life. In the face of public outrage, the General Assembly passed a general amnesty act, and Dorr was released after serving only one year.

 

Just before Dorr went to prison, John B. Francis went to the U.S. Senate for fourteen months to fill out the term vacated when William Sprague III resigned because of the death of his brother and business partner. The following year, Francis returned to the Rhode Island Senate, where he remained for another decade.

 

Thomas Wilson Dorr (1805-1854) was born in Providence, Rhode Island, and graduated from Harvard College in 1823. He studied law in New York City and was admitted to the bar in 1827, when he returned to Providence to practice. Elected to the Rhode Island General Assembly in 1834, Dorr became concerned about the disproportionate representation of rural areas and the disfranchisement of 60 percent of the state's adult males. After attempts to expand the franchise failed, reformers elected Dorr in 1842 as governor of a shadow government of Rhode Island. After failing to get support from the federal government and an abortive military maneuver, Dorr remained in exile for more than a year. When he returned to Rhode Island in October 1843, he was arrested, convicted of treason, and imprisoned for life. A general amnesty led to his release after one year, and he regained his civil rights in 1851.

 

John Brown Francis (1791-1864) was born in Philadelphia and graduated from Brown University in 1808. He was a merchant, attended the Litchfield Law School, and gained admission to the bar, but never practiced. He was a member of the Rhode Island House of Representatives from 1821 to 1829, and the Rhode Island Senate in 1831 and 1842. From 1833 to 1838, Francis was the governor of Rhode Island. From 1841 to 1854, Francis served as chancellor of Brown University, and the Law and Order Party coalition of Whigs and conservative Democrats elected him to the U.S. Senate in January 1844 to fill a vacancy caused by the resignation of William Sprague III. Francis served in the U.S. Senate from January 1844 to March 1845, but was not a candidate for reelection. He returned to the Rhode Island Senate from 1845 to 1856, then retired from public life.

 

This item comes with a Certificate from John Reznikoff, a premier authenticator for both major 3rd party authentication services, PSA and JSA (James Spence Authentications), as well as numerous auction houses.

 

WE PROVIDE IN-HOUSE SHIPPING WORLDWIDE
Contacts
University Archives
(203) 454-0111
88 Danbury Road, Suite 2A
LiveAuctioneers Support
info@liveauctioneers.com